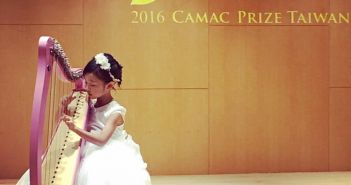 Winners have been announced at the 2016 Camac Prize Taiwan competition, which was held Nov. 25–27, 2016, at the Wenshui…
The 4th International Harp Competition hosted by the Slovenian Harp Association was held November 3-6, 2016, at the Fran Korun…
Alexandra Mullins, 2013-2015 AHS Concert Artist and recent graduate of Indiana University, has accepted the full-time position as itinerate harpist…
Starting in September 2016, Anneleen Lenaerts will be the harp instructor in the Classical Department of Maastricht Conservatory, the Netherlands.…
Two harpists begin one-year positions this season. Rachel Miller will play Principal Harp with the Akron Symphony, in Akron Ohio.…
Madeline Jarzembak is the new Principal Harp with the Santa Cruz Symphony following a June 24, 2016, audition. "I am thrilled…
Scottish folk musician William Jackson was recognized with a Lifetime Achievement Award at this year's Somerset Folk Harp Festival (July…
Nearly every harpist knows the name "Sylvia Woods," either from playing her arrangements or ordering harp gear from the Sylvia…
Oct. 15 marks the inaugural performance of the Dallas Harp Quartet, whose powerhouse members include  (from left) Grace Browning (Dallas Opera), Emily Levin…
Emmanuel Padilla Holguín has emerged as the First Prize winner in the 2016 Dutch Harp Competition. He also received the Audience Award, determined by ballot vote of audience members.
Susan Elizabeth Allen died on Sept. 7, 2015, at Evergreen Hospice Center in Kirkland, Wash. Allen taught harp and served…
Olga Erdely April 1, 1927 – October 2, 2015 Olga Erdely, Russia's foremost harpist and Moscow Conservatory Professor for 45…
On October 30th, 2016, harpists and harp music lovers gathered at the Royal Conservatory in Toronto to hear Judy Loman perform a solo recital in celebration of her 80th birthday.…
Featured Blogs
Featured Blogs
Baby it's Cold Outside!
The Holiday season means lots of harp gigs. But what about all that cold and snow? (Photo by Meg Rodgers)…
Featured Blogs
Ten Things
Sylvain Blassel—Instructor of harp at the Lyon Conservatoire National Supérieur de Musique—will give the closing concert at the Princeton Harp…
Q-and-A
As harpist with the The United States Army Band "Pershing's Own," Staff Sargent Nadia Pessoa's harp life surely qualifies as one of the most interesting and diverse you will encounter.
Harp maker Allan Shiers, founder of Telynau Teffi Harps, was named Maker of the Year at the recent Heritage Crafts Association annual…